Rolltec® retractable awnings require no maintenance (other than rinsing off the fabric cover periodically), due to the combination of a strong, rust free frame with a self-lubricating mechanism, and durable, water repellent fabrics. Rolltec® retractable awnings have long term manufacturer's warranties and are renowned for achieving the highest level of customer satisfaction.
Adalia Extreme X3M™
The quality engineered Adalia Extreme X3M™ retractable awning is our most popular awning and is designed to combine durability with excellent functionality. Most parts are made from extruded, thermally treated, and artificially aged aluminum.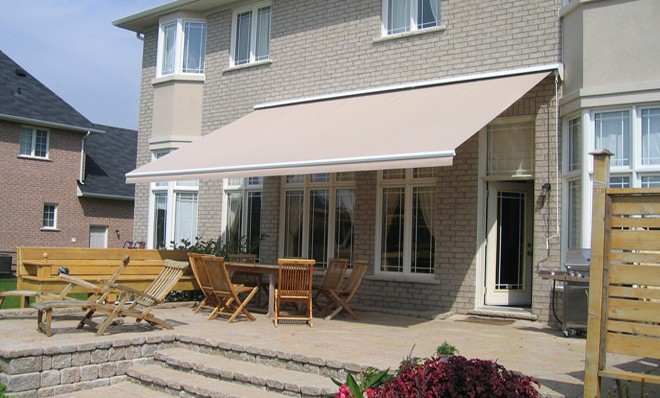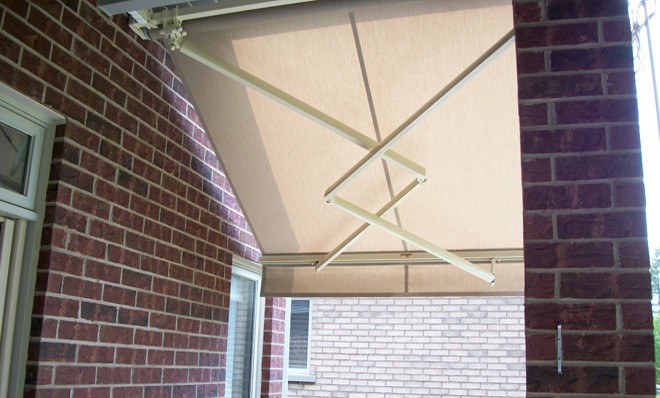 Adalia X3M Extenda™
The Adalia X3M Extenda™ model is part of the Adalia X3M™ family of awnings. The Adalia X3M Extenda™ has been specially designed for areas that require a full projection but cannot accommodate the minimum width requirements of a standard awning. As a result of the cross-arm setup, the Adalia X3M Extenda™ awnings can be manufactured with the projection equal or greater than the width of the awning.
Adalia X3M Plus™
The Adalia X3M Plus™ is a modification of the Adalia X3M™ retractable awning with unique slope adjustment gears incorporated into the arm shoulders. As a result, the Adalia X3M Plus™ awning allows infinite inclination adjustments of both arms simultaneously at any time keeping the arms aligned, which means your awning will remain levelled as the inclination is changed. Most parts for Adalia X3M Plus™ are made from extruded, thermally treated, and artificially aged aluminum, making them immune to corrosion.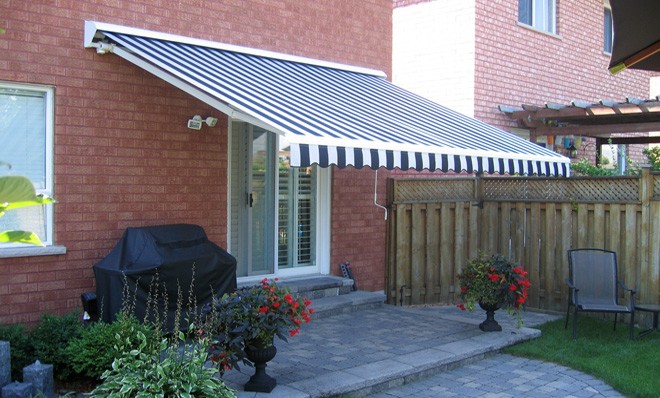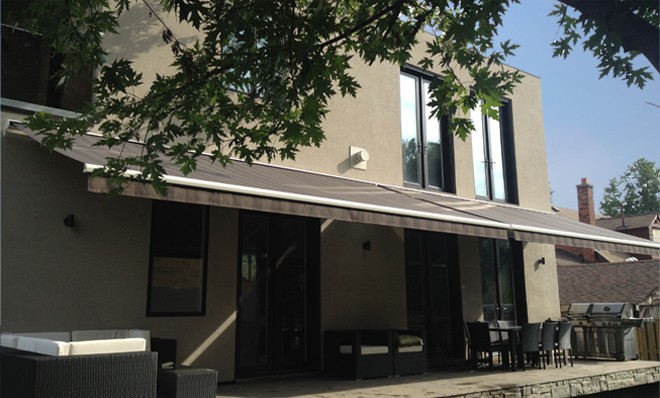 Bravo™
The Bravo™ awning is a semi-cassette retractable awning system where the roller with fabric top are enclosed by top and bottom profiles, leaving only the arms and valance exposed when the awning is retracted. The semi-cassette protects the fabric top from dirt and debris, the elements and wildlife. A specially designed mechanism of the arm shoulder forces the front bar to pull into the cassette, forming a tight enclosure that prevents unwelcomed creatures from making your awning their home.
Tilt-O-Shade™
The Tilt-O-Shade™ awning features chain driven arms and arm shoulders with an independently adjustable pitch, allowing you to raise or lower the front bar when you want, in a matter of seconds. Since each arm is adjusted individually, the awning can be angled so that one side is higher than the other (for water runoff or more shade on one side of the awning).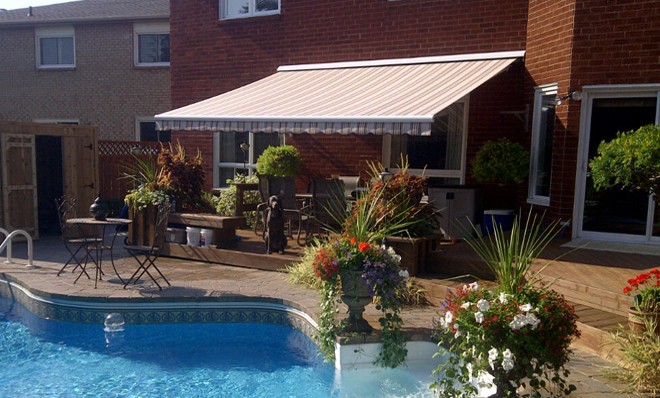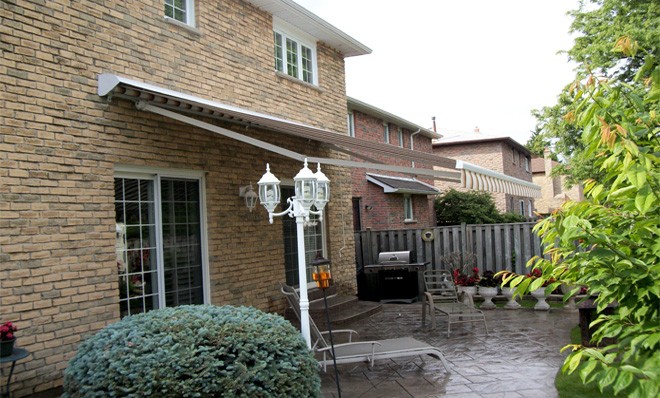 Physique XL™
Physique XL™ is a heavy duty awning system exclusively designed for 13'0″ (4m) projection, and has chain driven arms. Every retractable awning model, while extended, experiences considerable mechanical loads, especially during windy conditions. These loads become more significant for awnings with larger projections, and in particular a 13'0″ projection. The Physique XL™ features exceptionally robust arm shoulders designed to handle the torque where the arm is connected to the square bar. The model also features powerful lateral arms with rigid stainless steel chain links.
Atrium™
Restaurants, hotels, clubs, and other establishments looking to maximize profits from outdoor patios, now have an eye-catching solution. The Atrium™ is a unique refuge from sun and rain. The exceptional feature of the Atrium™ is its retractable top. The Atrium™ comes in sections of up to 20′ in width, and projecting up to 20′ in length from the wall. These sections can be linked together to create unlimited widths using a specially designed rain gutter.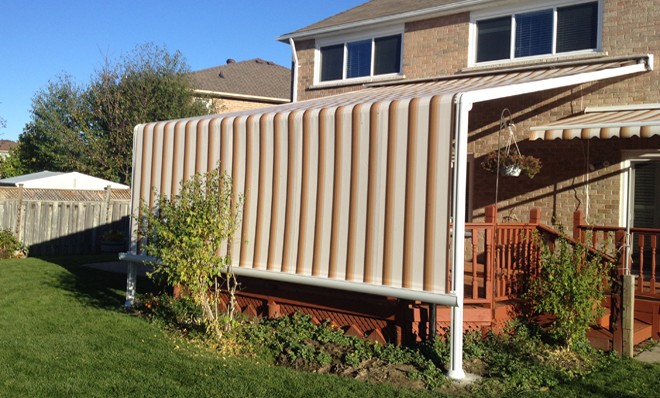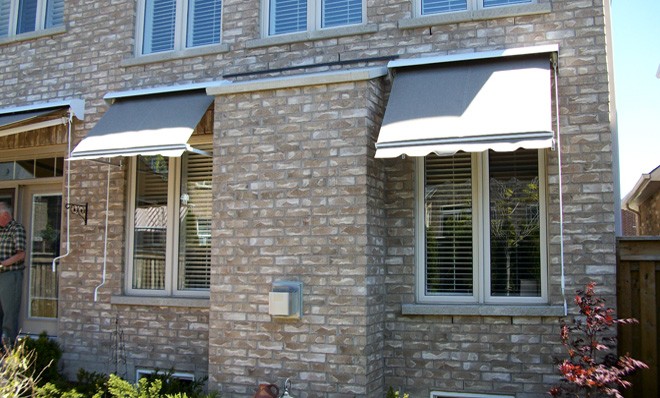 Drop Arm™
Drop arm awnings are our most popular model for shading windows. They are retractable, thus giving you the option to shade the entire window, or just part of it. Drop arms can be motorized or manually operated; for higher installations, we suggest a motorized operation.
Basket™
Basket awnings are a perfect solution to shade windows and doors. They are similar to stationary awnings and can be used year around. Basket awnings are made from anodized aluminum profiles, covered with marine grade solution dyed acrylic fabric and accented with matching or contrasting staple hider. If your basket awning is utilized for a commercial application, applying custom graphics is ideal for promoting your business.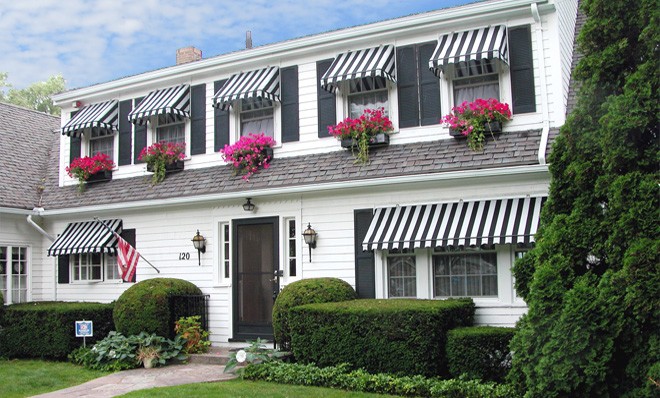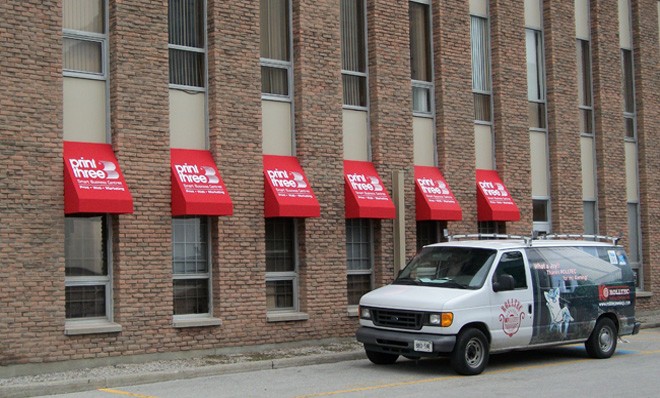 Stationary Awnings
We offer a wide variety of stationary awnings. Fabric tops are made from a marine grade solution dyed acrylic fabric and stretched across the frame. Each frame is made to measure. Stationary awnings are popular with businesses and some residential applications when customers are looking for year-round protection. To make commercial awnings stand out, you can consider adding graphics.
Sidepost Umbrella™
Contemporary designed Sombrano® S+ side post umbrellas certainly make a statement. They serve as the ideal cover for large patio dining sets, conversation seating, pool and spa areas at your home or cottage. These umbrellas are also suitable for commercial applications. Rolltec® offers over 100 choices of solution-dyed, marine grade acrylic fabrics for your customized umbrella.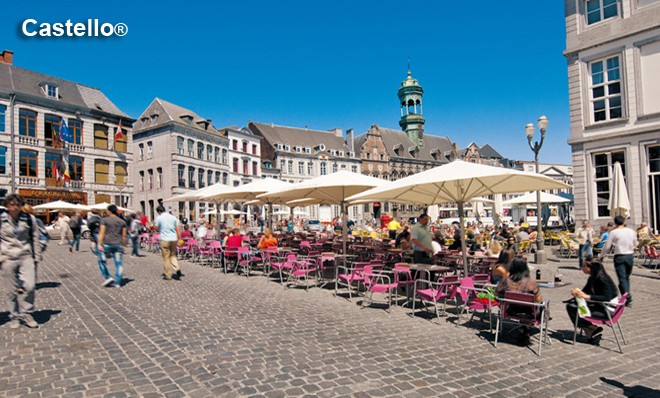 Giant Umbrellas
We offer a variety of models to suit specific needs:
The Palazzo® Royal is among the largest and most durable, sizing as big as 7m x7m square, 8m x 6m rectangular or 8m in diameter round.
The Palazzo® Noblesse, a similar but slightly smaller model, measuring up to 6m x 6m square, 6m x 5m rectangular or 7m in diameter round.
The Castello® model is slightly lighter than the Palazzo models, measuring up to 5m x 5m square, 5m x 4m rectangular or 6m in diameter round.
The Ambiente®, a giant sidepost umbrella, with sizing up to 4m x 4m square, 4.5m x 3.5m rectangular or 5m in diameter round.
All umbrellas are available with select customization options, a wide selection of fabrics, options for round, square or rectangular design, and different methods of anchoring. While combining beauty, elegance and precise engineering, all giant umbrellas provide a durable shelter for both residential and commercial applications.