The most critical part of any sunroom is the roof. Your choice of an elegant cathedral ceiling or a contemporary studio pitch roof are part of every sunroom. Your needs may require a roof only over an existing deck or porch or perhaps a carport. Either way, we have you covered when it comes to roof systems and carports!
Roof Systems
All roof systems come in thicknesses of 3 inch, 4 inch and 6 inch. The determining factors as to what thickness you should have are roof projection, snow load and Rvalue. All roof systems have a high density foam core with aluminum skins laminated on both sides or have an OSB exterior to accommodate standard shingles. Every roof system has an internal water troughing system to channel away moisture and comes standard with worry free heavy duty extruded aluminum gutters and fascia.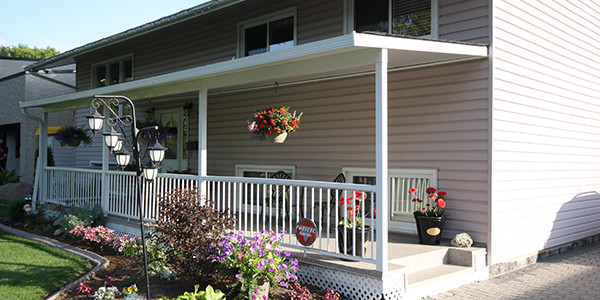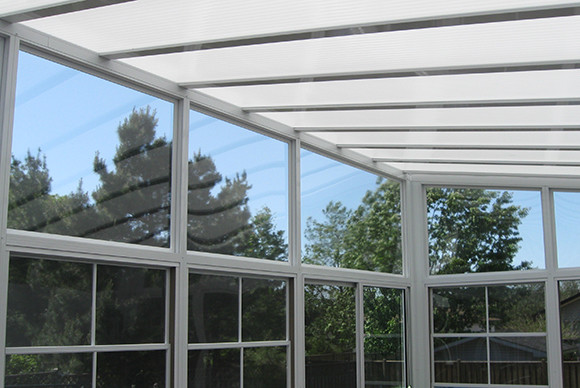 Acrylic Roof Systems
Sunspace Acrylic Roof Systems block harmful UV rays and protect families from the effects of inclement weather without the sacrifice of the sun's natural light. A Sunspace Acrylic Roof System will adapt to most roof systems allowing for ease of installation and giving you a virtually maintenance-free roof system. Sunspace Acrylic Roof Systems maintain high light transmission throughout its long life! The Acrylic sheets are 100% naturally UV stable and filter/soften harsh light. Sunspace Acrylic will retain 90% light transmission and clarity for 30 years! We guarantee it. In contrast, poly-carbonate users will experience diminishing light transmission and yellowing resulting in sheet replacement in as little as 10 years. Sunspace Acrylic Roof Systems offer a variety of roofing sheets to suit your requirements. The sheets are available in a range of solar tints that block damaging UV rays while allowing various levels of light transmission and heat reflection. Sunspace Acrylic has a combination for every application to help you get the look you want and offering the protection you need.